Introduction
Are you ready to take the wheel and embrace the freedom of the road? Look no further than JRD Motor Driving School, your ultimate destination for comprehensive driving classes all over Guwahati. Our mission is to empower individuals with safe and confident driving skills, catering to various locations within this vibrant city.
Why Choose JRD Motor Driving School?
Comprehensive Courses for All Skill Levels
At JRD Motor Driving School, we cater to everyone, whether you're a novice or looking to polish your driving skills. Our diverse range of courses includes:
Beginner's Basics: If you're taking the wheel for the first time, our instructors will guide you through the fundamentals of driving, ensuring a strong foundation.
Intermediate Expertise: For those with some driving experience, our intermediate courses focus on enhancing your skills and building confidence in various traffic scenarios.
Advanced Techniques: Seasoned drivers can benefit from our advanced courses, which cover defensive driving, handling emergencies, and navigating complex city traffic.
Expert Instructors
Our team of experienced and certified instructors is dedicated to your success. They employ patient and personalized teaching methods, ensuring that each student receives the attention they need to become a skilled and responsible driver.
Flexibility and Convenience
We understand that life can be busy, which is why we offer flexible scheduling options. Choose the time slots that work best for you, allowing you to balance your driving lessons with other commitments.
Covering All of Guwahati
From bustling marketplaces to serene residential areas, JRD Motor Driving School covers all the prominent locations in Guwahati. Whether you need to navigate the crowded streets of Panbazar, the picturesque roads of Uzan Bazar, or any other part of the city, our instructors will prepare you for a safe and enjoyable driving experience.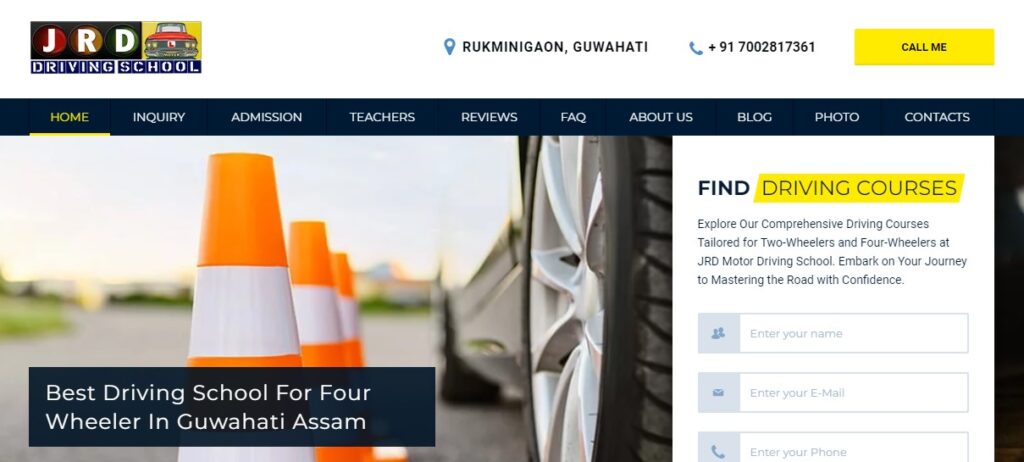 Kduplin Marwein
2023-08-01
Have to admit it's the best driving School with the most Professional, Kindest and very² Helpful Trainer in Guwahati. I Would highly recommend anyone who's looking for a two wheeler training especially for Women.
Jonmoni Das Deka
2023-07-31
Best driving school for guidance, proper training and gave the best quality of support and learning
Nice &very supportive...build confidence to drive in road......
Monalisha Ghosh
2023-07-16
Thank you to my trainer,your learning process was too good 👍
Best Driving School in Guwahati
Had a really nice experience. It took me some days to learn but my instructor was very patient with me, i really appreciate that..thank you😊
Best driving school in Guwahati Assam..this is the best place for new driver
Chinmoy Pathak
2023-06-13
A very nice trainer with good technique of teaching.
chandamita talukdar
2023-06-10
JRD is definitely the best driving School in Guwahati.I had a great learning experience and helped me learn to drive in Guwahati the most crowded and busy place. Hope you continue doing your good work👍
Contact Us
Are you ready to embark on your driving journey? Contact JRD Motor Driving School today at 7002817361 to enroll in our classes. Take the first step towards becoming a confident and skilled driver on the roads of Guwahati.
Conclusion
JRD Motor Driving School is your ultimate partner in acquiring driving skills that last a lifetime. With our comprehensive courses, expert instructors, and city-wide coverage, we ensure that you're well-prepared to tackle the roads of Guwahati with confidence. Enroll now and open the door to endless driving possibilities!