If you're on the lookout for the ultimate car training school in Guwahati that offers comprehensive training for both two-wheelers and four-wheelers, your search ends with JRD Motor Driving Training School. With a commitment to providing top-notch driving education, JRD Motor Driving Training School stands out as a reliable and reputable option for individuals seeking to become proficient drivers. Let's delve into the details of this exceptional driving school and the varied training options it offers.
Car Training
JRD Motor Driving Training School takes pride in its comprehensive car training program. Whether you're a novice looking to learn the basics of car driving or someone aiming to enhance your existing skills, our skilled instructors are dedicated to providing tailored training that meets your requirements. With an emphasis on road safety, traffic rules, and practical driving techniques, our car training program ensures that you're well-prepared to navigate the roads confidently and responsibly.
Scooty Training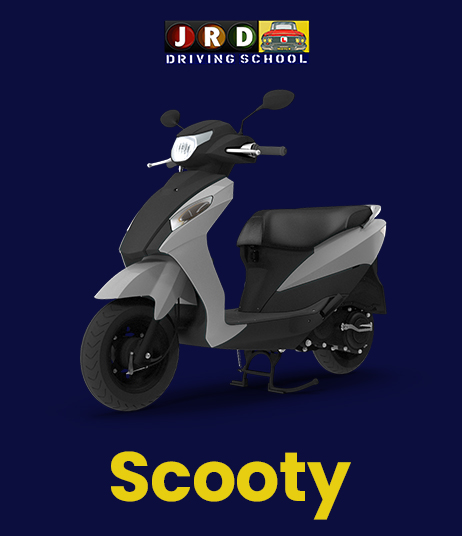 For those interested in learning how to ride a scooty, JRD Motor Driving Training School offers specialized scooty training. Our experienced instructors will guide you through the essentials of scooty operation, balance, and maneuvering. Whether you're a beginner or seeking to brush up on your scooty riding skills, our training program caters to learners of all levels.
Bike Training
If you're keen on mastering the art of riding a bike, our bike training program has got you covered. With a focus on bike control, handling different road conditions, and ensuring safety, our instructors will help you build the confidence and skills necessary for bike riding. Whether you're interested in leisurely rides or planning to use a bike as your primary mode of transportation, our training equips you for a smooth and enjoyable experience on the road.
Contact Information
To get started on your journey towards becoming a proficient driver, feel free to contact us at 7002817361. Our friendly staff is here to assist you with any inquiries you may have and guide you through the enrollment process.
Course Price and Details
For detailed information about our training courses and their respective prices, please visit our course price page: Course Prices. We believe in transparent pricing and ensuring that you get the best value for your investment in your driving education.
School Addresses
We have two conveniently located branches in Guwahati to serve you better:
Main Branch

Address: HOUSE NO -2, PRABIN NIWAS, CHINAKI PATH, RUKMINI GAON, GUWAHATI, ASSAM 781022, INDIA

Secondary Branch

Address: HOUSE NO-160-A, JAYANAGAR ROAD JAYA NAGAR SIXMILE, KHANAPARA, GUWAHATI, ASSAM 781022
Kduplin Marwein
2023-08-01
Have to admit it's the best driving School with the most Professional, Kindest and very² Helpful Trainer in Guwahati. I Would highly recommend anyone who's looking for a two wheeler training especially for Women.
Jonmoni Das Deka
2023-07-31
Best driving school for guidance, proper training and gave the best quality of support and learning
Nice &very supportive...build confidence to drive in road......
Monalisha Ghosh
2023-07-16
Thank you to my trainer,your learning process was too good 👍
Best Driving School in Guwahati
Had a really nice experience. It took me some days to learn but my instructor was very patient with me, i really appreciate that..thank you😊
Best driving school in Guwahati Assam..this is the best place for new driver
Chinmoy Pathak
2023-06-13
A very nice trainer with good technique of teaching.
chandamita talukdar
2023-06-10
JRD is definitely the best driving School in Guwahati.I had a great learning experience and helped me learn to drive in Guwahati the most crowded and busy place. Hope you continue doing your good work👍
Conclusion
JRD Motor Driving Training School stands as the premier choice for individuals seeking exceptional driving training for both two-wheelers and four-wheelers in Guwahati. With specialized programs for car, scooty, and bike training, as well as transparent pricing and convenient locations, we are committed to helping you become a confident and responsible driver. Enroll today and embark on your journey to mastering the art of driving in Guwahati!